BARS. YEP, BEEN TO MY FAIR SHARE OF BARS 'ROUND THE WORLD BUT NEVER ONE QUITE LIKE ONE I STUMBLED INTO IN MEDIEVAL CORSICA.  It's quite brisk in May/June in the hilltop medieval Citadel Ole Ville  in Bonifacio, Corsica, a stones throw away from the lesser known Italian island of Sardinia, visible from my boutique hotel suite's top floor balcony.  So wrapped in my all purpose traveling long sleeve denim shirt and a well worn Ralph L. sweatshirt, I wander the narrow streets dating from the 9th century, uhh, that's like in the 800s (think of the movies we see and visualize yourself in the market place pandering your pigs or produce or skins among the clanking of rolling wheels of horsedrawn carts on cobbled streets).  Just stop and look and think and visualize.  Quite spectack, cobbled streets and arched bridges connecting buildings.  I did find a section of restaurants and sat down, alley street alfresco, dining by candlelight, and ordered up a bottle of, Corsican Rose, mais oui, so crisp and tasty and invigorating plenty to make the spring come alive..
Goose pate, cheeses and can't recall the main course without going back and looking at my photos but it was all good for tourist fare.
What transpired to recall my adventure in Corsica?  One of my images sold yesterday and it was of Medieval Corsica, the old village Citadel seen below.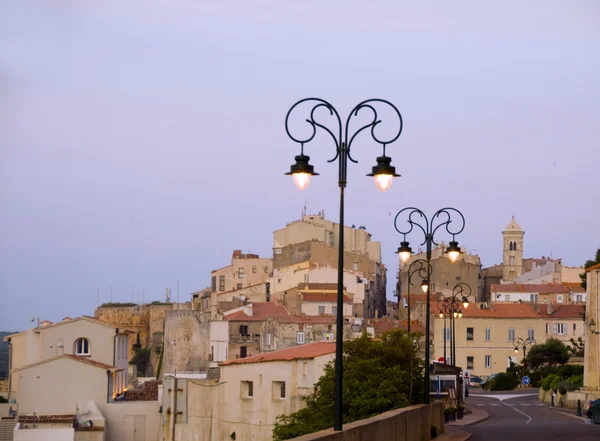 So, I'm leaving the citadel old ville to return to my hotel overlooking Sardinia when the desire to see what a bar in a medieval building would look like, I spotted au bar on the outskirts of ville and climbed the steps to get in through a solid wood door opening to warmth inside.  Place was quite crowded with people of all ages, concentration 24-40. No spot for a loner so grabbed a seat at table with a burly bearded woodsman type guy and 2 young folk.  Immediately the Corsican woodsman. who was probably a seaman,  introduced himself, shook my hand with a warm welcome and bought me a local beer, thick and tasty, unlike American no taste brew.  Well, this was all nice and fine and the music was of the 60s-80s and a fire was burning hot and blaze and I reveled at the antique chandeliers lighting the joint.  That sold wood door swings open with slight creak and a new couple walks in promptly going to every patron at every table in the bar and says hello,introduces themselves, shakes hands and kisses every girl!
Hmmm, me thinks to meself.  Maybe everyone here knows each other.  Hark, the door lets a guy running solo in and the same procedure is rendered including the kiss for the girls.  I start to wonder now.  Once again that big ole door allows some Corsican night sea air in along with a couple who went through the same routine of hugs/kisses/handshakes, me included in the routine of all as all entries went table to table to befriend all.
I'm thinking to meself "now this is a tradition we should have in the USA".  Can you imagine how many new friends you'd have in a few weeks?  Plenty.  And my memory of that bar in Medieval Bonifacio, Corsica is plenty good! A warm well lighted place. Sorry Mr. Hemingway, didn't steal it all but it was 'clean' as well.
    old harbor marina Medieval Bonifacio, Corsica copyright rj lerich '14
All writing and photos copyright rj lerich 2014 all rights reserved
SEE MY PRO PHOTOGRAPHY WEBSITE:www.rjlerich.com